All images are protected by copyright
These images represent only a small selection of the work produced by Gabriella Crespi during her 30-year career as a 20th-century artist, and include her most recent works created upon her return from India. Most of her photographic material is no longer available for publication, and for this reason we wish to thank all of the people who have provided us with precious material for our archives, thereby contributing to the publication of books and catalogues that aim to preserve the memory of the Artist and her work.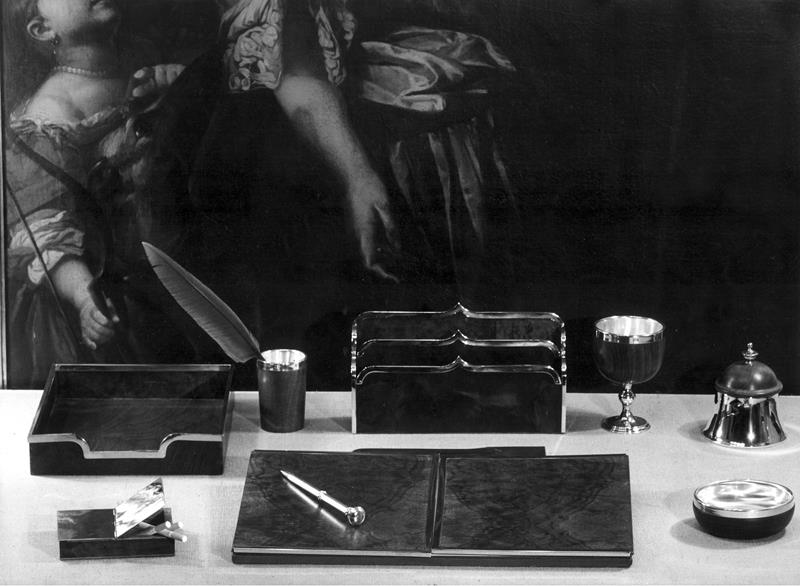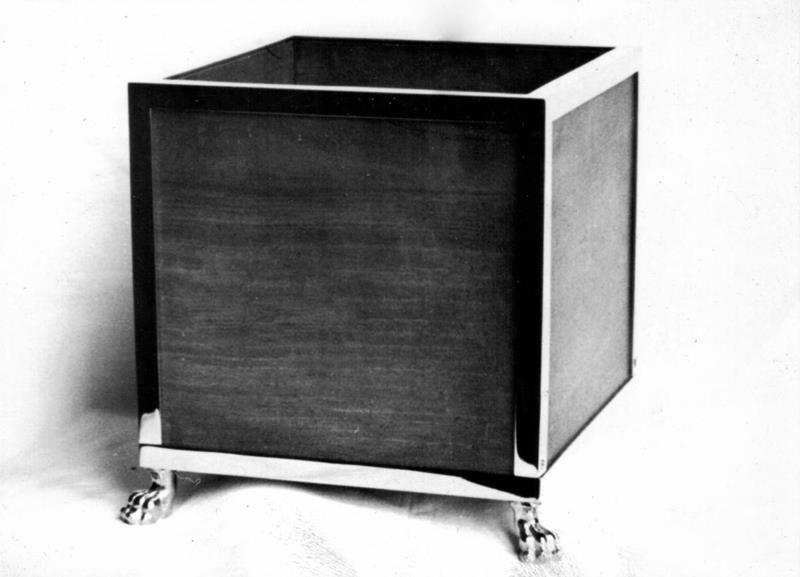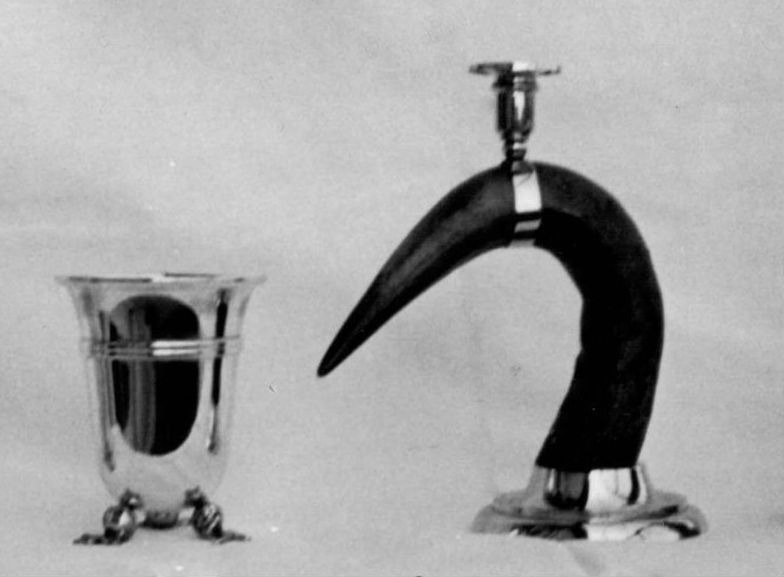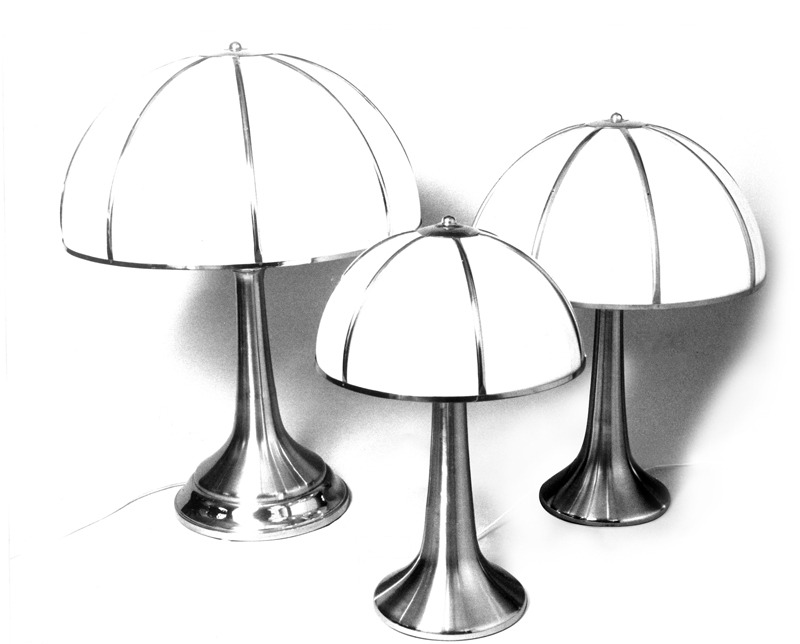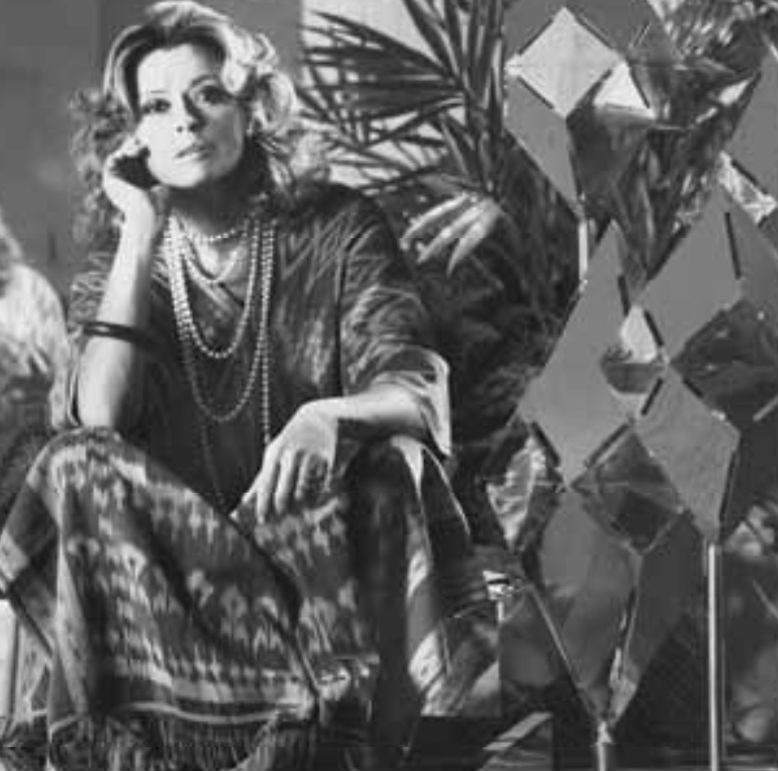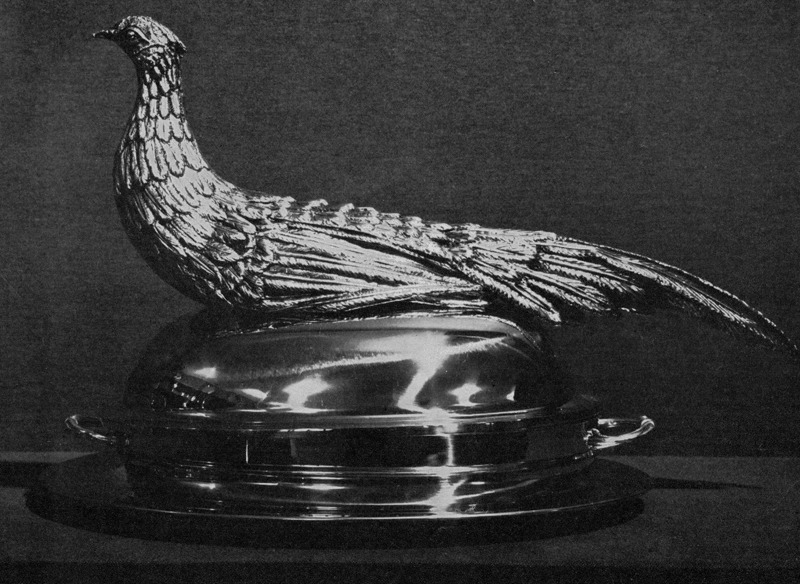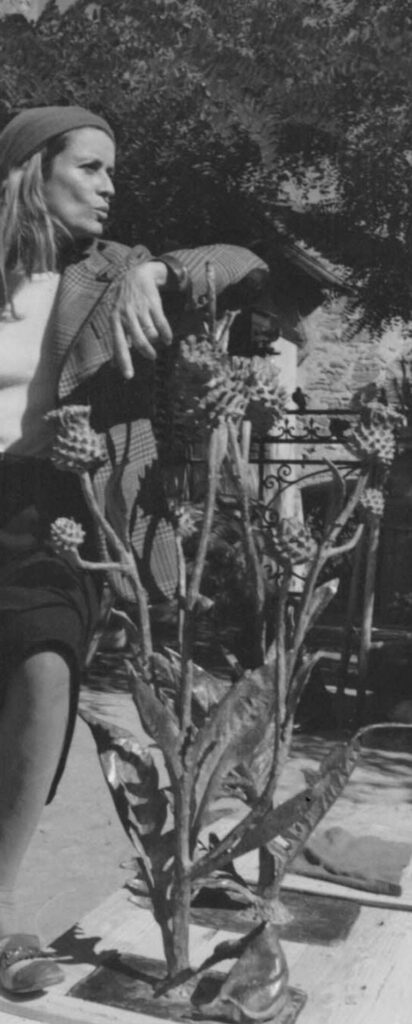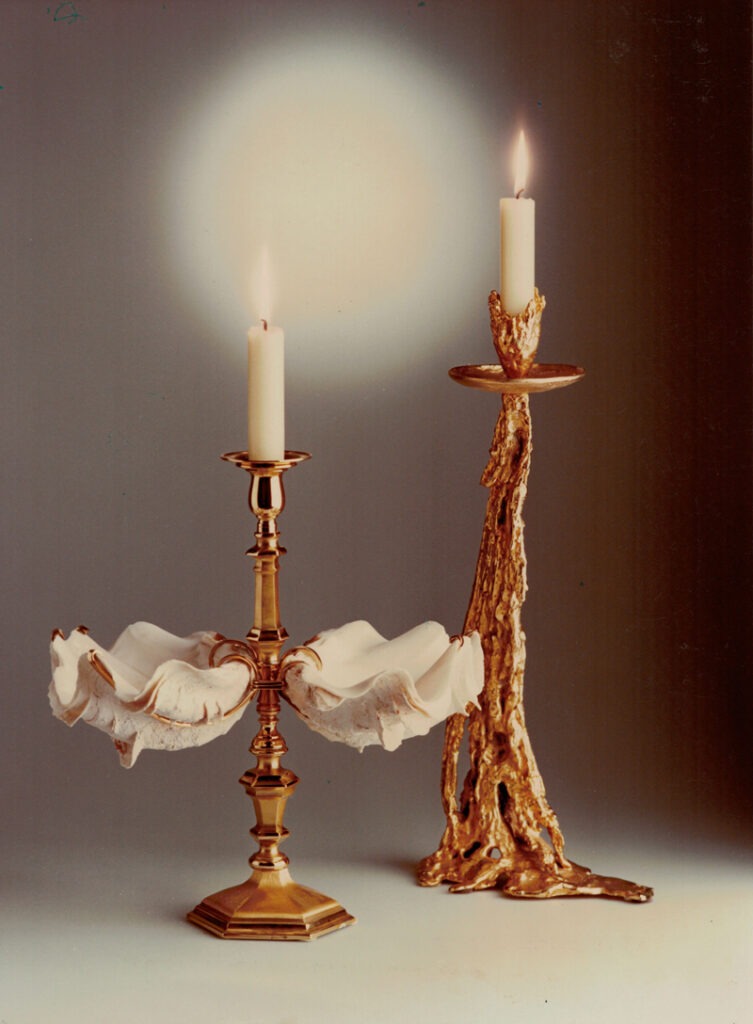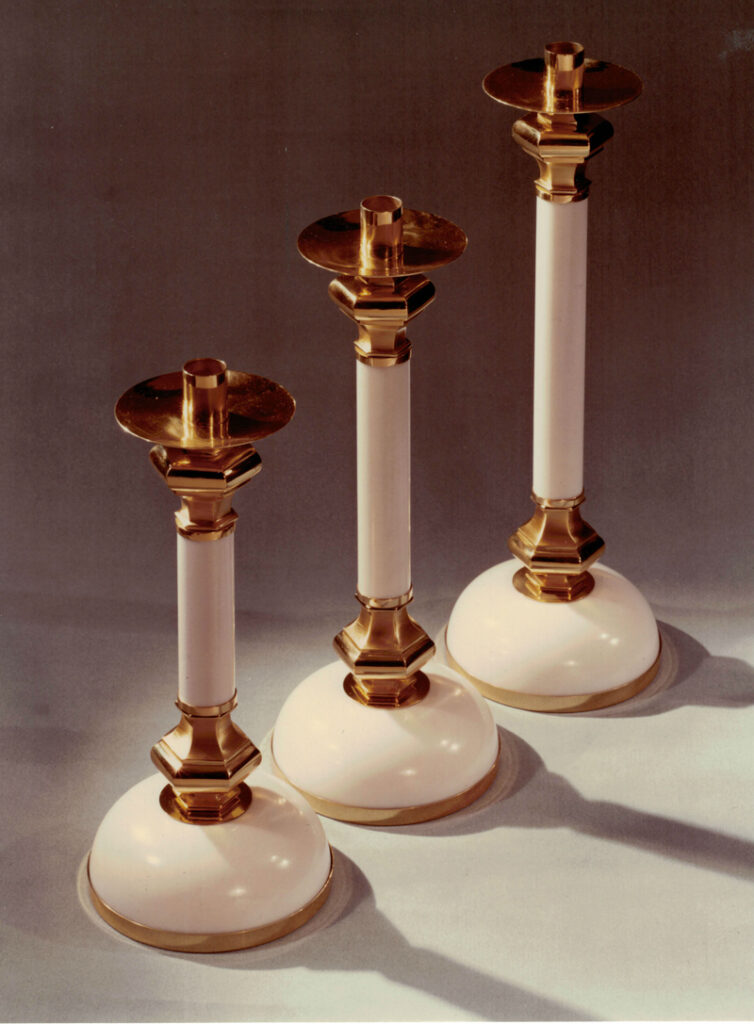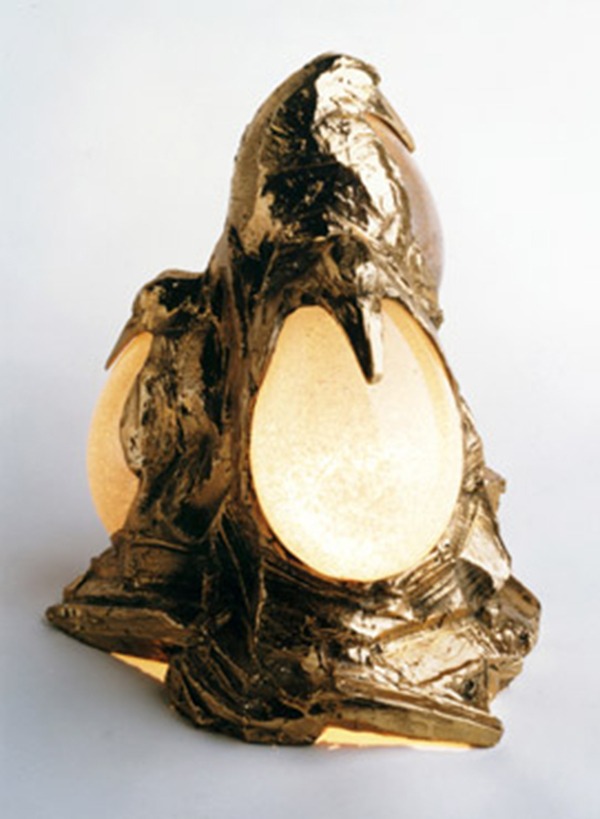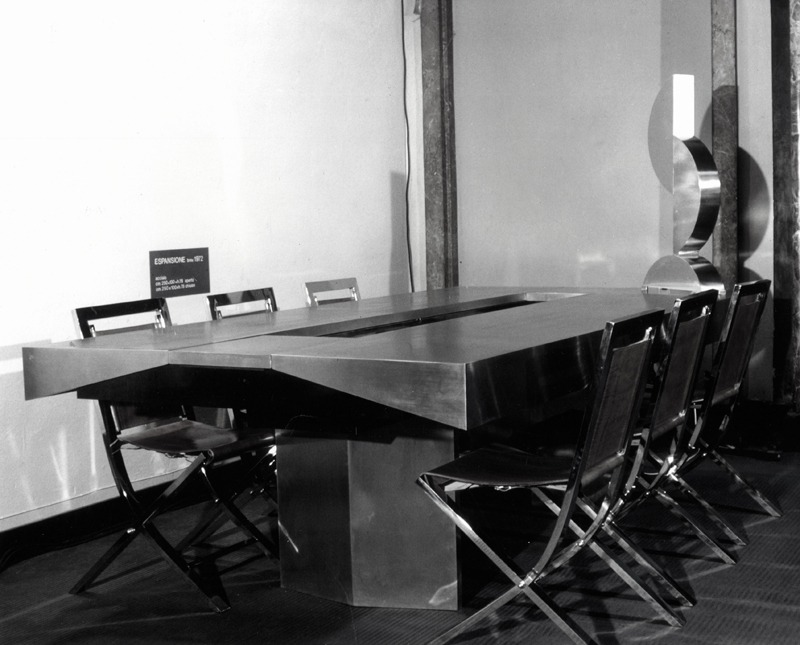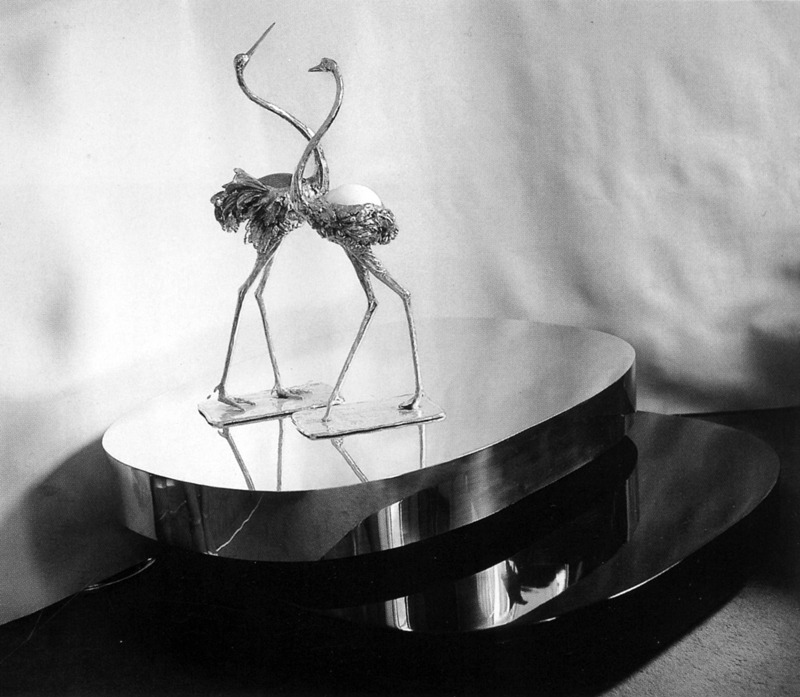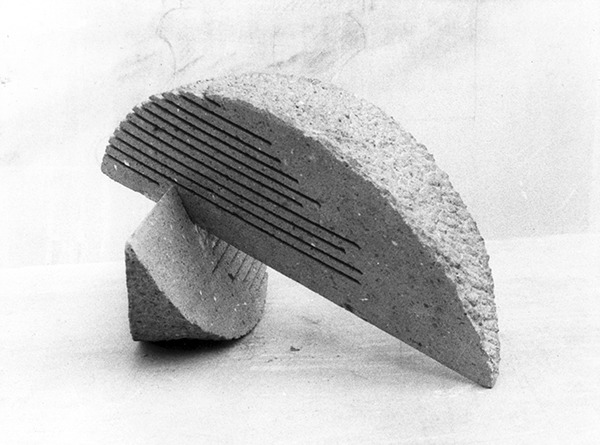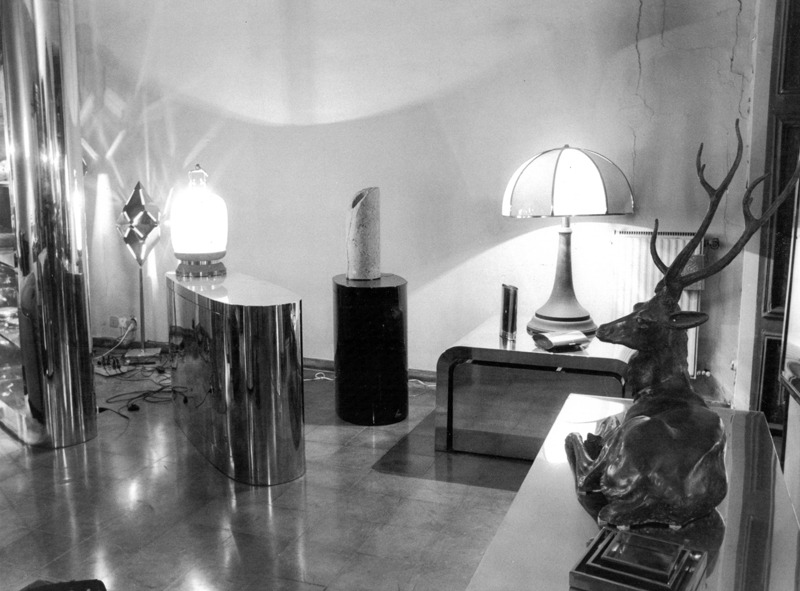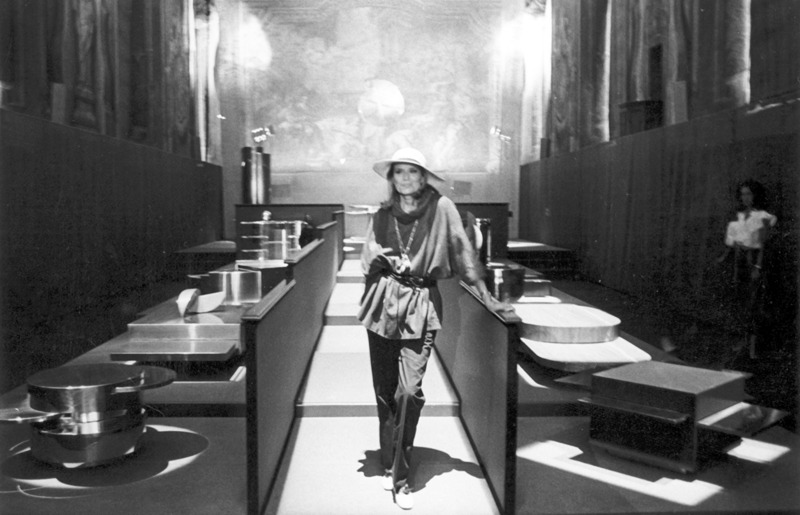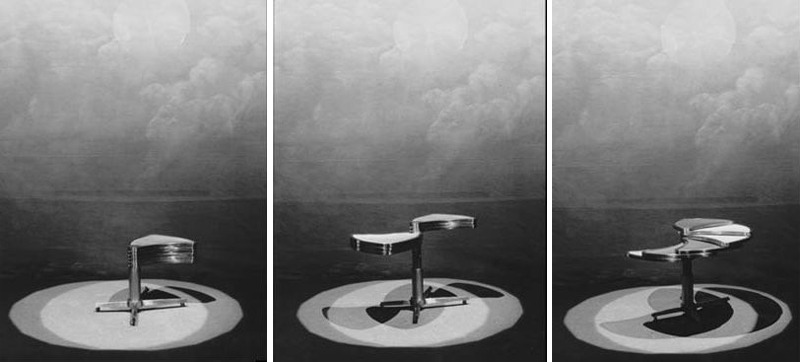 After her return from India, Gabriella Crespi presented in 2013 a new version of her Tavolo Scultura designed in 1970. Two monolithic, overlapping blocks made of Belgian Black marble. Subsequently, for Milan Design Week 2015, Crespi launched New Bronze Age, a series of new editions of some of her most iconic pieces using new materials. Lastly, Wave Desk was Gabriella Crespi's final creation, in 2016 – 30 years after her departure for India. An oversized desk with gracefully winding lines, Wave Desk was based on her design from the '70s.
Icon Design, Settembre 2018 – pp.128, 133
Liberty Times, 20 July 2018 – p.7
Kuan's Living Attitude – Autumn / Winter 2018 – pp. 29,30, 32
Gabriella Crespi – Odoya Edizioni, 2018 – pp.75, 82, 95, 104
Lampoon, April 2018 – p.109
Vogue Living Australia, Nov / Dec 2017 – p.49
Cabana – Spring / Summer 2017 – p.95
Vogue Italia – Aprile 2017 – p. 81
Il Giorno / Il Piacere della Lettura – 24 Settembre 2016 – p.32
AD Classic – Maggio 2016 – p.111
Elle Decoration (TW) – October 2015 – p.86
Kuan's Attitude – Autumn / Winter 2015 – p.81
Business Weekly (TW) / Alive – 10 September 2015 – p.73
Harper's Bazaar (DE) – September 2015 – p.198
Marie Claire Maison – Settembre 2015 – p.66, 67
WSJ Magazine – May 2015 – pp.50, 51 (EU), pp.118, 119 (US)
L'Officiel – Décembre 2014 / Janvier 2015 – p.144
Gabriella Crespi – Piasa Éditions, 2014 – pp.7, 20, 22, 23, 24, 31, 43, 57, 90, 97, 98, 99
Flash Art – Maggio / Giugno 2014 – p.II / Design
Vanity Fair – Février 2014 – pp.142, 145
The New York Times Style Magazine – October 20, 2013 – p.70
Il Segno e lo Spirito – Electa, 2011 – pp.Cover, 16, 27, 30, 50-59, 69, 78, 79, 131
AD Italia – Settembre 2011, p.82
Casa Vogue – Ottobre 2008 – pp.34, 35
Les Décorateurs des années 60 / 70 – Norma Editions, 2007 – pp. 141, 144
The New York Times Style Magazine, Design Spring 2005 – p. 94
Gente Money – Novembre 1987 – p.104
Ambiente – March 1986 – p.112, 114
Femme – Spring / Summer 1984 – p.9
AD Italia – Dicembre 1983 – p.76, 77
La Sera – 27 Maggio 1983 – p.5
Europeo – 27 Dicembre 1982 – p.92
Gala International – Dicembre 1982 – p.49
Casa Vogue – Dicembre 1980 – p.254
Interior Design – July 1980 – p.95
Casa Vogue – Dicembre 1972 – p.80
Living / Corriere Della Sera – Maggio 2019 – pp.176/183
Sabato L'Echo – 27 April 2019 – p.61
Corriere Della Sera – 23 Marzo 2019 – p.31
Icon Design – Settembre 2018 – pp.128, 129
Kuan's Living Attitude – Autumn/Winter 2018 – pp.26/33
Liberty Times – 20 July 2018 – p.7
Gabriella Crespi – Odoya Edizioni 2018 – pp.21, 81, 82, 83, 85, 87, 88, 89, 95, 96, 104
Lampoon – April 2018 – pp.104, 105, 107, 108
Storie. Il Design Italiano – Triennale Design Museum – Electa, 2018 – pp.328, 329
Vogue Living Australia – Nov / Dec 2017 – pp.49, 50
Cabana – Spring / Summer 2017 – pp.94, 95
Vogue Italia – Aprile 2017 – p. 83
Il Giorno / Il Piacere della Lettura – 24 Settembre 2016 – p.32
W.Women in Italian Design / Triennale Design Museum 9 -2016 – p.164
Elle Decoration (DE) – January / February 2016 – pp.40, 133
How to Spend it – Ottobre 2015 – p.48
Elle Decoration (TW) – October 2015 – pp.86, 89
Kuan's Attitude – Autumn / Winter 2015 – pp.81, 84
Marie Claire Maison – Settembre 2015 – pp.66, 67
Harper's Bazaar (DE) – September 2015 – pp.46, 198, 199
Business Weekly (TW) / Alive – 10 September 2015 – pp.070, 073
Vogue Brasil – July 2015 – pp.194, 195 WSJ Magazine – May 2015 – pp.50, 51, 53 (EU), pp.118, 119, 121 (US)
AD Italia – Marzo 2015 – p.48
Les Décorateurs des années 60 / 70 – Norma Editions, 2015 – pp.134, 135, 138, 139, 140, 143
L'Officiel – Décembre 2014 / Janvier 2015 – p.144
Gabriella Crespi – Piasa Éditions, 2014 – pp.1, 13, 16, 17, 24, 25, 28, 40/43, 66/71 87, 100/104, 120
1968 Italian Radical Design – Deste Foundation / Toiletpaper, 2014 – p.103
AD France – Octobre / Novembre 2014 – p..90
Wohnen & Stil – Oct / Nov 2014 – p.153
Baku – Octobre 2014 – p.58
Flash Art – Maggio / Giugno 2014 – pp.II, V / Design
Vanity Fair France – Février 2014 – pp.139, 140, 141, 143
Grazia Casa – Gennaio/Febbraio 2014 – p.48
Stiletto – Hiver 2013 / 2014 – p.28
Harper's Bazaar – November 2013 – p.212
The New York Times Style Magazine – Fall 2013 – p.70
Women's Wear Daily – July 3, 2013 – p.3
Wallpaper – July 2013 – pp.40 / 44
Casa Vogue – Aprile 2013 – pp.16, 18, 19, 21
Corriere della Sera – 9 Aprile 2013 – p.41
AnOther Magazine – Autumn / Winter 2012 – pp.158, 159
WSJ Magazine – September 2012 – p.76
Paris Match – 5 Juillet 2012 – p.108
Il Segno e lo Spirito – Ed. Electa, 2011 – pp.16, 18, 23, 26, 27, 30, 32, 35, 40, 42, 45, 60/83, 124
Parisian Interiors – Editions Flammarion, 2011 p.14
The Whispered / Fendi – Ed. Electa, 2011 – pp.142, 143
Elle Décor US – November 2011 – pp.211/ 213
Elle Italia – Ottobre 2011 – p.172
AD Italia – Settembre 2011 – pp.82, 84
To Be Magazine – Settembre 2011 – p.106
La Repubblica – 28 Settembre 2011 – p.XV
Il venerdì di Repubblica – 16 Settembre 2011 – p.80
AD Italia – Gennaio 2011- p.122
Living in Style Paris – teNeues Publishing Group, 2010 – pp.206, 207
30 Anni di Galleria Colombari, 2010 – p.146
Metropolitan Home – March 2009
Casa Vogue – Ottobre 2008 – pp.34, 35
Les Décorateurs des années 60 / 70 – Norma Editions, 2007 – pp.141, 144, 145, 146, 148, 149
AD Italia – Ottobre 2007 – p.238
Meubles et décors des années 70 – Editions du Regard, 2005 – p.84
The New York Times Style Magazine – Design Spring 2005 – pp.94, 96, 98
Metropolis – Nazanin Yashar, 2005 – pp.122, 123
Wallpaper – July / August 2001 – pp.208, 209
Gente Money – Novembre 1987 – pp.104, 105
Ambiente – March 1986 – pp.112/115, 118, 119
La Stampa – 22 Febbraio 1985 – p.12 / Inserto
La Nazione – 22 Febbraio 1985 – p.3
Il Piccolo – 22 Febbraio 1985 – p.3
Capital – Febbraio 1985 – p.11
Il Tempo – 21 Dicembre 1984 – p.8
Femme (SA) – Spring / Summer 1984 – p.9
Il Mobile – Dicembre 1983 – pp.83, 84, 85
AD Italia – Dicembre 1983 – pp.70, 71, 76
La Sera – 27 Maggio 1983 – p.5
Arredo Tessile – Gennaio / Marzo 1983
Gala International – Dicembre 1982 – p.49
Europeo – 27 Dicembre 1982 – p.92
Gran Bazaar – Novembre 1982 – p.11
Casa Vogue – Novembre 1982 – p.298
Vogue Italia – Novembre 1982 – p.394
Il Mobile – 30 Settembre 1982 – p.3
Il Giornale – 16 Settembre 1982 – p.12
Il Giornale Nuovo – 17 Settembre 1982 – p.4
Il Giornale – 21 Settembre 1982 – p.12
La Repubblica – 17 Settembre 1982
The Miami Herald / Sunday, Nov.1, 1981 – p.8H
Interior Design – July 1980 – p.95
Vogue Living – February / March 1980 – pp.38, 42, 43, 45
Gran Bazaar – February 1980, p.83
Interior Design – January 1980 – p.39, 104
House and Garden – July / August 1979 – p.95
Architectural Digest, April 1979 – p.24
Maison et Jardin – Octobre 1978 – pp.160, 161
Maison & Jardin – Septembre 1978 – pp.94, 95
L'Oeil – Janvier / Février 1977 – pp.36, 37
Casa Vogue – Novembre 1976 – p.160
House & Garden – July/August 1976 – p.76, 77
Home Furnishing Daily – February 11, 1975 – p.10
Women's Wear Daily / "W" – March 22, 1974 – pp.20, 21
House & Garden – January 1974 – p.59, 61
Casa Vogue – Maggio 1973 – p.143
Casa Vogue – Dicembre 1972 – p.80
Lo Specchio – 12 Dicembre 1971 – p.21
Home Furnishing Daily – December 3, 1971 – pp.1, 6
La Notte – 24 Novembre 1971 – p.3
Corriere della Sera – 20 Novembre 1971 – p.15
Corriere della Sera, 23 Marzo 2019 – p.31
Icon Design, Settembre 2018 – pp.130, 132
Liberty Times, 20 July 2018 – p.7
Kuan's Living Attitude – Autumn / Winter 2018 – pp. 27/33
Gabriella Crespi – Odoya Edizioni, 2018 – pp.8, 57, 99, 105, 116, 124, 128
Lampoon, April 2018 – pp.105, 106
Vogue Living Australia, Nov / Dec 2017 – p.50
Cabana – Spring / Summer 2017 – p.95
Il Giorno / Il Piacere della Lettura – 24 Settembre 2016 – p.33
Elle Decoration (TW) – October 2015 – p.88, 90
Business Weekly (TW) / Alive – 10 September 2015 – pp.069, 071, 073
Kuan's Attitude – Autumn / Winter 2015 – pp.82, 84
Harper's Bazaar (DE) – September 2015 – pp.194, 195
Vogue Brasil – July 2015 – p.194, 195
WSJ Magazine – May 2015 – pp.116 / 120 (US) – pp.48 / 52 (EU)
Les Décorateurs des années 60 / 70 – Norma Editions, 2015 – p.140
Gabriella Crespi – Piasa Éditions – 2014 – pp.7, 8, 11, 16, 17, 31, 58/61, 64, 66, 68, 69, 71, 72, 86, 98, 109/111, 120
AD France – Oct / Nov 2014 – p.88
Vanity Fair France – February 2014 – p.140 / 145
The New York Times Style Magazine – Design Fall 2013 – p.70
Architectural Digest – November 2012 – p.96
The Sign and the Spirit – Electa, 2011 – pp.28, 63, 96 /109, 128
Elle Italia – October 2011 – p.172
AD – September 2011 – p.82
La Repubblica – 28 Settembre 2011 – p.XV
Corriere della Sera – 24 Settembre 2011 – p.19
Vivi Milano – 21 Settembre 2011 – p.79
Il venerdì di Repubblica – 16 Settembre 2011 – p.80
Les Décorateurs des années 60 / 70 – Norma Editions, 2007 -pp.146, 148
Velvet / La Repubblica – Settembre 2007 – p.348
Short Cuts – Nazanin Yashar, 2006 – pp.23, 169
The New York Times Style Magazine – Design Spring 2005 – pp.98, 100
Corriere della Sera – 1 Novembre 1988 – p.31
Ambiente March 1986 – p.119
L'Oeil – Novembre 1979 – p.53
Maison & Jardin – Février 1979 – pp.100, 101
Maison & Jardin – Septembre 1977 – p.105
Maison & Jardin – Juillet / Août 1977 – p.32
Women's Wear Daily / "W" – March 22, 1974 – pp.20, 21
Casa Vogue – May 1973 – p.143
The New York Times – February 5, 1972 – p.18
Diario de Barcelona, 6 de Noviembre de 1970
Galeria / La Moda en Espaňa – Noviembre 1970 – pp.14, 15
Corriere della Sera, 23 Marzo 2019 – p.31 Icon Design, Settembre 2018 – pp.128, 131
Liberty Times, 20 July 2018 – p.7
Kuan's Living Attitude – Autumn / Winter 2018 – pp. 27/31
Gabriella Crespi – Odoya Edizioni, 2018 – pp.16, 17, 21, 28, 130
Vogue Living Australia, Nov / Dec 2017 – p.50
Cabana – Spring / Summer 2017 – p.95
Vogue Italia – Aprile 2017 – p. 82
Elle Decoration (TW) – October 2015 – pp.89, 90
Business Weekly / Alive – 10 September 2015 – pp.69, 73
Harper's Bazaar (DE) – September 2015 – pp.194, 195, 196, 197, 198
Les Décorateurs des années 60/70 – Editions Norma, 2015 – pp.136, 142, 143
Vogue Brasil, July 2015 – pp.194,195
WSJ Magazine – May 2015 – pp.116 / 119 (US)
Marie Claire Maison – Settembre 2015 – p.67
Kuan's Attitude – Autumn / Winter 2015 – pp.81, 85
L'Officiel – Décembre 2014 / Janvier 2015 – p.144
Gabriella Crespi – Piasa Éditions, 2014 – pp. 6, 7, 10, 14, 50, 51, 53, 55, 78, 98, 112 / 115
Beaux Arts – Décembre 2014 – p.136
AD France – Oct / Nov 2014 – p.90
Vanity Fair France – Février 2014 – p.141, 145
Il Segno e lo Spirito – Electa, 2011 – pp. 23, 33, 40, 110/115
Corriere della Sera – 24 Settembre 2011 – p.19
Il venerdì di Repubblica – 16 Settembre 2011 – p.80
Casa Vogue – Ottobre 2008 – p.34
Les Décorateurs des années 60/70 – Editions Norma, 2007 – pp.148, 149
Meubles et décors des années 70 – Éditions du Regard, 2005 – p.84
Gente Money – Novembre 1987 – p.104
AD Italia, Dicembre 1983 – p.72
Interior Design – July 1980 – p.95
Vogue Living – February / March 1980 – pp.42/45
House & Garden – July / August 1979 – p.95
Maison & Jardin – Juillet / Août 1979 – p.28
House & Garden – June 1979 – p.133, 135
Maison & Jardin – Septembre 1978 – p.94, 95
Maison & Jardin – Juillet / Août 1978 – pp.1, 7, Cover
Maison & Jardin – Mars 1978 – Dossier M&J
L'Oeil – Janvier / Février 1978 – p.69
Maison & Jardin – Novembre 1977 – pp.100, 101
Maison & Jardin – Septembre 1977 – p.105
Maison & Jardin – Juillet / Août 1977 – p.32
L'Oeil – Janvier / Février 1977 – p.34
House & Garden – July/August 1976 – p.77
Casa Vogue – Maggio 1976 – pp.196, 197
Casa Vogue Brasil N°16 – September 1975 – pp.46, 47
Women's Wear Daily / "W" – March 22, 1974 – pp.20, 21
Casa Vogue – Maggio 1973 – p.143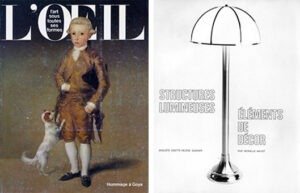 Sabato L'Echo – 27 April 2019 – p.61
Corriere della Sera, 23 Marzo 2019 – p.31
Living / Corriere della Sera, Gen / Feb 2019 – pp.96, 98
Icon Design, Settembre 2018 – p.131
Liberty Times, 20 July 2018 – p.7
Kuan's Living Attitude – Autumn / Winter 2018 – pp. 26/31
Gabriella Crespi – Odoya Edizioni, 2018 – pp.17, 21, 28
Vogue Living Australia, Nov / Dec 2017 – p.50
Cabana, Spring / Summer 2017 – p.94
Vogue Italia, Aprile 2017 – p.83
Harper's Bazaar (DE), September 2015 – pp.195, 197
Elle Decoration Taiwan, October 2015 – pp.89, 90
Business Weekly (TW) / Alive – 10 September 2015 – pp.68, 69
Vogue Brasil, Julho 2015 – pp.194,195
WSJ Magazine, May 2015 – pp.117, 118 (US)
Gabriella Crespi – Piasa Éditions, 2014 – pp.14, 50, 51, 53, 78, 98, 112, 114, 115
L'Officiel, Décembre 2014 / Janvier 2015 – p.144
Beaux Arts, Décembre 2014 – p.136
AD France, Oct / Nov 2014 – p.90
Vanity Fair France, Février 2014 – p.141
Il Segno e lo Spirito – Electa, 2011 – pp.23, 111, 112, 113
Corriere della Sera, 24 Settembre 2011 – p.19
Les Décorateurs des années 60/70 – Editions Norma, 2007 – pp.148, 149
Meubles et décors des années 70 – Éditions du Regard, 2005 – p.84
Gente Money, Novembre 1987 – p.104
Interior Design, July 1980 – p.95
Vogue Living Australia, February / March 1980 – pp.39, 42, 43, 45
House & Garden, July / August 1979 – p.95
L'Oeil, Novembre 1978 – p.46
Maison & Jardin, Septembre 1978 – pp.94, 95
Maison & Jardin, Novembre 1977
House & Garden, July/August 1976 – p.77
Casa Vogue Brasil, September 1975 – pp.46, 47
Women's Wear Daily / "W", March 22, 1974 – pp.20, 21
Casa Vogue, Maggio 1973 – p.143
Casa Vogue, Dicembre 1972 – p.80
La Notte, 24 Novembre 1971 – p.3
Io Donna / Corriere Della Sera, 6 Aprile 2019 – p.164
Icon Design, Settembre 2018 – p.131
Liberty Times, 20 July 2018 – p.7
Kuan's Living Attitude – Autumn / Winter 2018 – pp.31, 32
Gabriella Crespi – Odoya Edizioni, 2018 – pp.16, 98, 106
Lampoon, April 2018 – p.109
Vogue Italia – Aprile 2017 – pp. 82, 83
Harper's Bazaar (DE) – September 2015 – pp.194, 196, 197
Business Weekly (TW) / Alive – 10 September 2015 – p.072
Vogue Brasil – July 2015 – p.195
WSJ Magazine – May 2015 – pp.116 / 118 (US) – pp.48 / 50 (EU)
Les Décorateurs des années '60 /'70 – Editions Norma, 2015 – p.141
Air France Madame – Dicember / January 2014
AD France – Oct / Nov 2014 – p.92
Vanity Fair France – Février 2014 – p.145
Flair – 28 November 2013 – p.234
Elle (US) – October 2013 – p.202
Marie Claire (US) – October 2013 – p.152
Elle – 23 Août 2013 – p.92
Wallpaper – July 2013 – pp.40 / 44
Casa Vogue – Aprile 2013 – pp.20, 21
Il Segno e lo Spirito – Electa, 2011 – pp.22, 116/127, 132, 133
The Whispered / Fendi – Electa, 2011 – pp.142, 143
Elle Italia – Ottobre 2011 – p.171
La Repubblica – 28 Settembre 2011 – p.XV
AD – Settembre 2011 – p.84
Casa Vogue – Ottobre 2008 – p.34
Les Décorateurs des années '60 /'70 – Editions Norma, 2007 – p.147
AD – Dicembre 2006 – p.273
Short Cuts – Nazanin Yashar, 2006 – p.267
The New York Times Style Magazine – Design Spring 2005 – pp.96, 100
Ambiente – March 1986 – pp.116, 117
Le Vetrine di Milano – Edizioni L'Agrifoglio, 1982 – p.126
Vogue Living – February / March 1980 – p.38
House & Garden – July / August 1979 – p.95
Maison & Jardin – Septembre 1978 – p.94
El Universal – 12 Marzo 1978 – p.4
House & Garden – July/August 1976 – p.77
Home Furnishing Daily – February 11, 1975 – p.10
Lo Specchio, – 12 Dicembre 1971 – p.21
Living / Corriere Della Sera, Gen / Feb 2019 – pp.98, 99
Corriere della Sera, 23 Marzo 2019 – p.31
Icon Design, Settembre 2018 – p.129
Liberty Times, 20 July 2018 – p.7
Kuan's Living Attitude – Autumn / Winter 2018 – pp. 27, 29, 31
Gabriella Crespi – Odoya Edizioni, 2018 – pp.16, 72, 80, 83, 89, 94, 109, 141-151
Il Giornale dell'Arte – Aprile 2017 – p.2
Cabana – Spring/Summer 2017 – p.92
W.Women in Italian Design / Triennale Design Museum 9 -2016 – p.146
Il Giorno / Il Piacere della Lettura – 24 Settembre 2016 – p.32
Business Weekly/ Alive – 10 September 2015 – p.73
Harper's Bazaar (DE) – September 2015 – pp.198,199
Marie Claire Maison – Settembre 2015 – p.67
Vogue Brasil – Julho 2015 – pp.194, 195
WSJ Magazine – May 2015 – pp. 120, 121(US), pp. 52,53 (Eu)
Elle Décor Italia – Aprile 2015 – Cover, p. 289
The New York Times Style Magazine – March 29, 2015 – p.94
Les Décorateurs des années 60 / 70 – Editions Norma, 2007 – pp.136, 137, 140, 141
Gabriella Crespi – Piasa, 2014 – pp.2-5, 8, 15, 17-19, 27, 33-34, 36-37, 46-49, 66, 72-73, 87-89, 91, 96-97, 106-108
L'Eventail – Novembre 2014 – p.125
AD France – Octobre / Novembre 2014 – pp.88, 92
WSJ Magazine – September 2014 – p. 171
Flash Art – Maggio / Giugno 2014 – p. IV / Design
Vanity Fair – Février 2014 -p.144
Cambi Auction Magazine – Febbraio 2014
Casa Vogue – Aprile 2013 – p. 19
AnOther Magazine – Autumn / Winter 2012 – p.158
WSJ Magazine – September 2012 – p.76
Elle Italia – Ottobre 2011 – p.172
Il Segno e lo Spirito – Ed.Electa, 2011 – pp.14, 20, 33, 35, 38, 42, 65, 84-95, 136, 138
Io Donna / Corriere della Sera – 17 Settembre 2011 – pp. 311,313
Il venerdì di Repubblica – 16 Settembre 2011 – p.80
30 Anni di Galleria Colombari, 2010 – p.146
Elle Décor (US) – July 2009 – p. 60
Casa Vogue – Ottobre 2008 – p.35
AD Italia – Settembre 2008 – pp.152, 154
Ricerca di Infinito – Edizioni Samaj italiano, 2007 – Cover
Les Décorateurs des années 60 / 70 – Editions Norma, 2007 – pp.142, 143, 146, 147
AD Italia – Ottobre 2007 – p.234
Harper's Bazaar (US) – June 2007 – pp. 166, 169
Short Cuts – Nazanin Yashar, 2006 – pp.85, 103, 111, 171, 203
AD Italia – Gennaio 2006 – pp.146, 147
The New York Times Style Magazine – Design Spring 2005 – p..94
Metropolis – Nazanin Yashar, 2005 – p.143
AD Italia – Giugno 2001- p.195
Crossings – 360° Edizioni Milano, 2000 – p.25
Casamica – 28 Settembre 2000 – p.116
Gente Money – Novembre 1987 – pp.104, 105
Ambiente – March 1986 – p.119
AD Italia – Dicembre 1983 – pp.73, 77
Casa Vogue – Dicembre 1980 – p.255
Vogue Living – February/March 1980 – p.38
Maison & Jardin – October 1978 – p. 160
Esquire & Derby – Settembre 1974 – p.123
Lo Specchio – 10 Dicembre 1972 – p.22
Home Furnishing Daily – December 3, 1971 – p.6